Your Memorable Future – Strategies to Prevent Cognitive Decline and Alzheimer's Disease
Date: Sunday 13th August
Time: 2:00 pm
Presenter: Jan Purser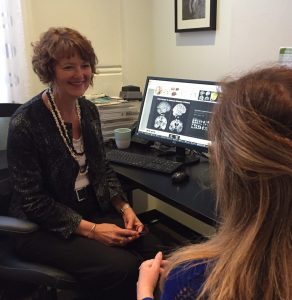 Coming soon to Remede we have a 2-part workshop package presented by Jan Purser, our Naturopathic Nutritionist who specialises in prevention and reversal of cognitive decline, dementia and Alzheimer's disease. Jan has completed additional training with Dr Dale Bredesen and the Institute of Functional Medicine in the USA on reversing cognitive impairment and early Alzheimer's disease (AD).
After a close family member was diagnosed with Alzheimer's disease in recent years Jan has seen first hand the devastating effect loss of memory has had on him, his wife, and all his family and friends. As a result Jan researched the latest statistics on the disease and the forecasted statistics. It is not an optimistic picture. Since then Jan has made it her mission to help as many people as possible prevent Alzheimer's disease and cognitive decline, as research shows that it is a completely preventable disease.
During Workshop 1 Jan will share the most up-to-date information on what happens in the brain to cause the damage associated with Alzheimer's disease and what drives this damage. You might be surprised to learn that not all people with amyloid plaque build up in the brain develop Alzheimer's disease and that some people with the disease do not have the amyloid plaque build up one might expect. There has been significant research into the true drivers of the disease that has shed new light onto a variety of factors including genetic, dietary, medications, lifestyle and environmental exposure to toxins.
You will have time between workshop 1 and 2 to have your first individual consultation with Jan as well as undergo the comprehensive blood tests, gene testing, live blood screening and also a cognitive function assessment. Armed with this knowledge about your health markers, you will then be prepared for the second workshop.
In Workshop 2 Jan will share with you how to read your test results, what the ideal levels are and what physiological changes occur to take the body's processes off balance. Then you will learn which diets are best for preventing cognitive decline and also the ideal diet for mild cognitive impairment and early Alzheimer's diagnosis.
Discover which lifestyle activities bring the best health benefits for the brain, which hobbies promote better cognitive function and how best to manage stress in your life. Jan will also explain how to determine if your home or workplace may be contributing to your toxic load. And, how to get a good night's sleep every night so your brain and body repair and rejuvenate.
Your second consultation with Jan will be after workshop 2. Jan will discuss your blood and gene test results with you and what they mean for you personally. She may suggest further testing based on these results or toxin exposure history. With all the relevant information Jan will prescribe for you a program of care, including dietary guidance, to put you on the path to good health into your golden years.
Dates: Sunday August 13th and Sunday September 10th 2017
Time: 2pm to 5pm
Included:
2 x 3-hour workshops (value $240)
2 x one-on-one consultations 
with Jan Purser (value $370)
Specific blood tests (value of $1,000)
Specific gene test (value $100)
Cognitive function testing (value $50)
Live Blood Screening (value $105)
Handout notes and recipes in workshops
Afternoon tea at each workshop
Value: $1865. Special package price of $1397.
(A 50% non-refundable deposit is required to secure your booking as numbers are limited. Bookings are transferable.)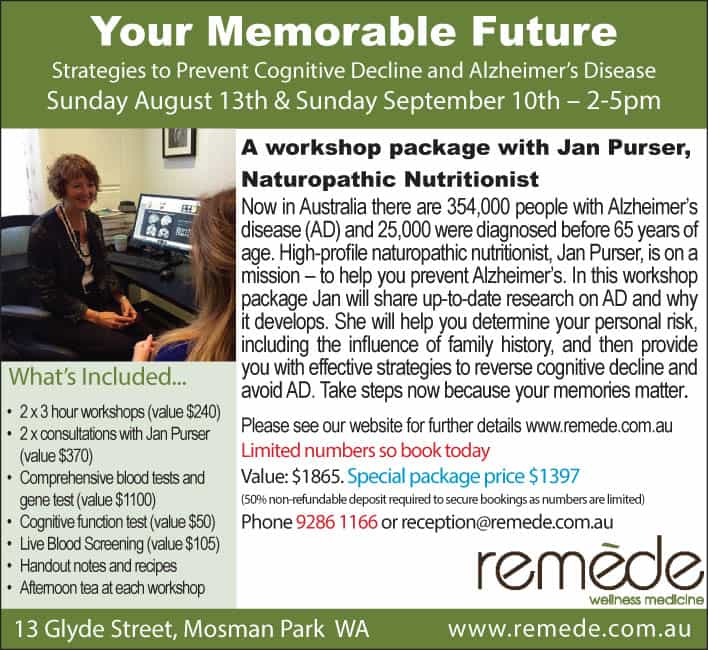 Book an Appointment
Take charge of your health and book an appointment with one of highly experienced practitioners. We look forward to meeting you!