Empowerment Through Mindfulness Workshop
Date: Thursday 25th May
Time: 11:00 am
Presenter: Daniella Princi
Coming up at Remede we have a 3 part series workshop run by our Psychologist & Life Coach, Daniella Princi. By investing in these workshops, you will learn through principles of Mindfulness, how to become Intrinsically Focussed, so you will feel "re-connected", organised and empowered.
This small-group workshop delivers practical and super-effective tools and strategies to help you to gain control and clarity over yourself and your life. Discover how to maximise your happiness and sense of meaning and fulfilment. You will learn how to heal, nurture and nourish yourself from within, and start to regain a sense of purpose in your life. Reconnect with the best version of you, so you can provide support to others in your life!
In a small group, you will receive 3x 2-hour sessions with passionate, down-to-earth and experienced Psychologist and Wellness Coach, Daniella, where you will:
– Gain an understanding in the power your mind has over you and how to start to accept and manage it better
– Learn 3 simple steps to daily habits of mindfulness:
o Learn to take time to just STOP and give yourself time to "Just BE"
o Learn a few simple steps to start your day on the right foot and with a more positive frame of mind
o Implement a few daily habits of mindfulness to care for yourself, Mind, Body & Soul
– Gain an understanding of what your life looks like holistically, and areas that you may wish to focus on improving
– Set some goals to assist you to move forward
– Receive a weekly and daily schedule to help you to begin your new daily and longer-term habits and goals
You will also receive a small gift as part of the package to commence you on your journey toward Empowerment through Mindfulness.
You will be invited to join a closed FB group where you will continue to gain support and maintain support of each other.
Dates: May 25th, June 8th, June 22nd
Time: 11am-1pm
Investment: $297 ($50 deposit required on booking)
These will be very small groups with limited numbers so book your spot today!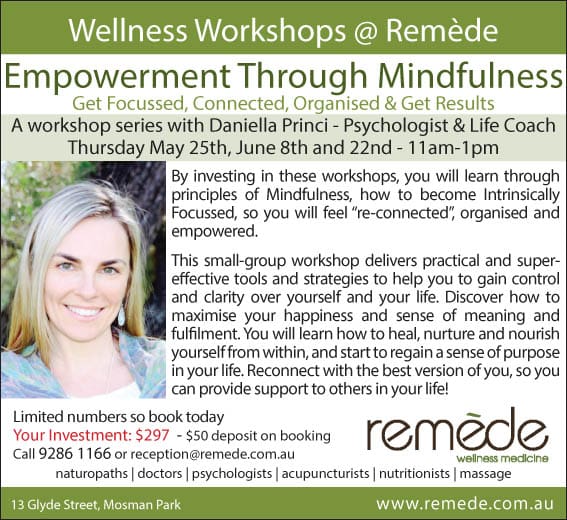 Book an Appointment
Take charge of your health and book an appointment with one of highly experienced practitioners. We look forward to meeting you!