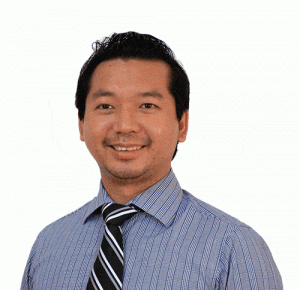 Dr Lawrence (Ceu) Cung
M.B.B.S; J.C.C.A; D.C.H. F.R.A.C.G.P; M.A.C.N.E.M; M.A.5.M
Integrative GP and Functional Medicine Doctor
Qualifications, Memberships and Experience
Dr Ceu (Lawrence) Cung is an Integrative GP and Functional Medicine Doctor who has a keen interest in holistic medicine, including anti-aging and longevity medicine, which has been cultivated over his 16 years in medical practice. Dr Lawrence graduated in Medicine from the University of Medicine Mandalay in Myanmar in 2004 and worked in hospitals in Burma in a range of medical roles before immigrating to Australia in 2009. He worked in several hospitals in Victoria before undertaking a post-graduate medical training program in rural medicine to become a GP. In his many years in GP practice in rural areas, Dr Lawrence has become highly experienced in emergency medicine, anaesthetics, women health, children's health, gastroenterology, urology, musculoskeletal medicine, psychiatry and immunology. This experience has given him exceptional diagnostic and treatment skills in all areas of medicine.
Dr Lawrence is a Fellow of Royal Australian College of General Practitioners, member of the Australian College of Nutrition and Environmental Medicine (ACNEM), member of A5M and certified with the Joint Consultative Committee in Anaesthesia. He has also completed a Diploma in Child Health. He is also currently undertaking the fellowship training program with the American College of Anti-aging, Metabolic and Functional Medicine and the Australian College of Nutrition and Environmental Medicine (ACNEM), in addition to Bio Balance training and a Diploma in Cosmetic Medicine.
Dr Lawrence is a registered General Practitioner (GP), which enables his patients to claim full Medicare rebates.
Areas of specialty and approach to treatment
Dr Lawrence is passionate about preventative medicine, health promotion and a wellness orientated approach to patient care. He strongly believes in optimising one's health and focuses on helping his patients to truly feel better, function better, age well and experience optimal vitality…so they can achieve their goals.
In his years working in medical practice, Dr Lawrence appreciates that conventional medicine manages acute conditions and symptomatic treatment very well, but it lacks in the areas of chronic disease management and prevention, which is why he prefers a holistic approach to patient care to uncover what the underlying cause/s are of a patient's often complex health concerns. He strongly believes in in the bio-psycho-social approach to medicine, which means that he considers a patient's genetic/epigenetic factors, as well as environmental, lifestyle, nutritional and psychological factors, which may all be contributing to the root cause of a patient's disease or sub-optimal health. Dr Lawrence is not only interested in treating a patient's disease, he is focused on addressing the root cause/s to create meaningful change for his patients.
Dr Lawrence is experienced in treating a wide range of health concerns in men, women and children, including fatigue, stress, anxiety, depression, hormonal issues, weight problems, thyroid issues, insomnia, cardiovascular issues, metabolic diseases, diabetes, obesity, respiratory problems, immune problems, ageing concerns, digestive issues, complex and chronic health concerns and much more.
Dr Lawrence has a special interest in metabolic diseases such as obesity, hypertension and diabetes which can lead to preventable chronic diseases such as ischaemic heart disease, stroke, heart attack and dementia. Dr Lawrence knows that by diagnosing metabolic disease in the early stages, he can help to prevent, slow down or even revert metabolic disease by optimising energy-intake imbalances, reducing insulin resistance, reducing inflammation and addressing oxidative stress. This approach involves providing patient-specific education, negotiating lifestyle changes plus prescription of specific medicines and natural supplements which are highly effective.
Dr Lawrence also has a special interest in mental health issues such as depression, anxiety, stress, post-natal issues, hormonal mood disorders and substance abuse. He sees many patients with mental health issues dramatically improve with testing for which neurotransmitters (brain chemicals) are imbalanced and if there are any underlying methylation issues or pyrrole disorders, before correcting these imbalances with specific supplements and natural medicines, as well as patient-specific lifestyle modifications as required.
His other area of interest and experience is women's health, obstetrics and babies/children's health. Dr Lawrence enjoys treating babies and children of all ages, for a wide-variety of paediatric issues. He is also experienced in doing comprehensive hormone testing (salivary hormone testing & urine hormone testing – DUTCH testing), and he is trained to prescribe bio-identical hormones for patients looking for a more holistic and individualised approach to treating menopause and female hormonal issues, as well as men's hormonal imbalances.
Dr Lawrence's consultations are much longer than standard GP consultations, allowing him to take the time to be thorough and truly patient-focused. He starts with a thorough history and then may do physical examinations and/or arrange comprehensive testing which may include general pathology testing as well as functional medicine testing if required. Once the underlying cause/s of a patient's health problem/s have been identified, Dr Lawrence then uses dietary and lifestyle therapy, as well as nutritional and natural medicines if indicated, to help his patients restore optimal wellness. As a medical doctor, he may prescribe pharmaceutical medications if requested and can also refer to other health practitioners, including medical specialists, depending on a patient's individual needs.
Dr Lawrence's considerable medical experience, combined with his holistic and patient-centered approach, makes him a highly valued part of the Remède practitioner team.