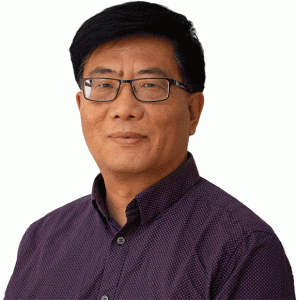 Dr Haolong Zhao
PhD; M.Sc.(Chinese Medicine); Adv.Dip.Medicine (T.C.M) M.A.T.M.S; C.M.A.S.A; A.H.P.R.A.
Doctor of Chinese Medicine and Acupuncture
Qualifications and memberships
Dr Zhao is a highly qualified and skilled Chinese Medicine and Acupuncture Practitioner with over 25 years of clinical experience, working in hospitals in China for 16 years and in private practice in Australia for 12 years. His extensive training and experience means that he takes a comprehensive approach to patient care, applying his medical knowledge within a holistic Chinese medicine framework to achieve excellent patient results.
Dr Zhao commenced his studies in 1988, initially studying a combined degree in Chinese Medicine and Western Medicine at the DaTong College of Medicine in China. After commencing practice as a resident doctor in the Pneumology Department at DaTong Institute Hospital, he undertook his Masters Degree in Chinese Medicine, which he completed in 1998. Dr Haolong then commenced a PhD at Shanghai University, where he researched the effect of Chinese Medicine to assist Lipitor to improve vascular endothelial health. He was awarded his Doctorate in Traditional Chinese Medicine in 2002, and he went on to practice as the Attending Physician in the Cardiovascular and Cerebrovascular Department at Tongji University Hospital, before immigrating to Australia in 2008. Since arriving in Australia, Dr Zhao has been practicing in private practice, as well as being a senior lecturer in Chinese Medicine at Endeavour College of Natural Health in Perth.
Dr Zhao is registered a Chinese Medicine practitioner with Australian Health Practitioner Regulation Agency (AHPRA) and is registered with all major health funds, enabling his patients to claim private insurance rebates on consultations. He is also a professional member of the Australian Traditional Medicine Society (ATMS) and the Chinese Medicine & Acupuncture Society of Australia (CMASA).
Areas of specialty and approach to treatment
Dr Zhao is passionate about Chinese Medicine and takes a thorough approach to patient care He integrates and blends the philosophies of traditional Chinese Medicine with the research approach of medicine. His acupuncture technique is effective, gentle and may sometimes incorporate cupping and gua sha if indicated. Chinese herbal medicine & dietary therapy may be prescribed in conjunction with acupuncture to increase treatment effectivity.
Many health issues that are unresponsive to conventional medical treatment can be naturally and effectively treated with Chinese Medicine. Dr Zhao's knowledge and extensive clinical experience means that he is experienced in treating a wide range of disorders, including:
Acute or Chronic Pain Conditions (including arthritis, joint problems, muscle pain, neuropathic pain, post-herpetic neuralgia from Shingles, Fibromyalgia, bursitis, frozen shoulder, injuries etc)
Cardiovascular Problems / Heart Disease
Hormonal and menstrual disorders including period pain, menopause, PCOS, endometriosis and PMS
Infertility (female and male) and IVF Support
Cancer support (a great adjunct to oncology treatment)
Digestive problems including IBS, constipation, reflux, inflammatory bowel disease
Immune and respiratory problems
Headaches and migraine
Stress, anxiety and depression
Insomnia and fatigue problems, including chronic fatigue syndrome
Acupuncture is also great to improve general health and is also a wonderful adjunct to other treatments. Dr Zhao is very happy to work with a patient's healthcare specialists to ensure the best care for each individual.
In each consultation, Dr Zhao takes a thorough case history before discussing his treatment plan, which is individualised and specific for each patient. During an acupuncture treatment, Dr Zhao painlessly inserts the acupuncture needles before leaving his patient to rest and relax, which allows the acupuncture to take effect. His technique is extraordinarily gentle and highly skilled, making patient's feel that they are in very safe hands.
Dr Zhao's extensive clinical experience, combined with his caring and professional approach, makes him a highly valued member of the Remède practitioner team.