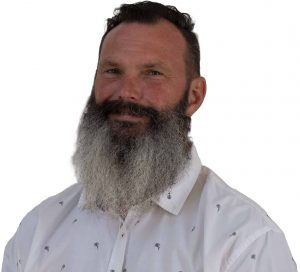 Dr Daniel Bullock
B.H.Sc.(Acu); Dip(Shiatsu/Oriental Medicine); Cert. Wudang Tai Chi C.M.B.A; A.H.P.R.A; A.A.C.M.A.
Doctor of Chinese Medicine and Acupuncture; Shiatsu Practitioner and Tai Chi Instructor
Qualifications, Memberships and Experience
Dr Daniel Bullock has over 20 years' experience in the practice of Traditional Chinese Medicine (TCM) and is a highly qualified and accomplished Doctor of Chinese Medicine, Acupuncturist, Shiatsu Practitioner and Tai Chi Instructor.
Originally from the United Kingdom and previously a professional fire-fighter, Daniel's experience of his own health issues led him to TCM. As a result of his health journey and successful response to TCM treatment, Daniel began studying a specialised form of Tai Chi called Wudang Tai Chi Chuan in 2000. He became a Tai Chi Instructor and has taught group and one-on-one classes for the past 20 years. Daniel then went on to complete a Diploma in Shiatsu & Oriental Medicine and qualified as a Shiatsu Practitioner in 2011. After being in practice for many years as a Tai Chi and Shiatsu Practitioner, Daniel then completed an additional 4 years of training at the Endeavour College of Natural Health, gaining his Bachelor of Health Science in Acupuncture.
Daniel is registered with the Chinese Medicine Board of Australia (CMBA), the Australian Health Practitioner Regulation Agency (AHPRA) and is an active and current member of the Australian Acupuncture and Chinese Medicine Association (AACMA). He regularly attends professional seminars and conferences and is committed to ongoing personal and professional development, with a dedication to life-long learning and learning new ways to enhance his patient's treatment results. Daniel is registered with all the major Australian private health funds, enabling his clients to claim private insurance rebates on his consultations and treatments.
Areas of specialty and approach to treatment
Daniel's amalgamation of life experience and extensive knowledge gained through his understanding of TCM principles enables him to approach his client's wellbeing from a truly holistic perspective that encompasses the physical, mental and spiritual aspects of each individual. Daniel treats each patient within a holistic TCM framework to achieve excellent patient results.
Daniel has a unique style, often blending aspects from both Eastern and Western approaches to medicine, creating safe and effective treatment plans for his patients. His synergistic style encompasses a wide variety of acupuncture techniques and utilises many of the more traditional acupuncture modalities such as Cupping, Gua Sha and Moxibustion, as well as Electroacupuncture and Infra-red.
Daniel often works together with a patient's other healthcare practitioners and his treatments are safe and complementary to conventional medical treatment, including patients taking pharmaceutical medications, having chemotherapy, IVF or other treatments.
Many health issues which are unresponsive to conventional medical treatment can be naturally and effectively treated with Chinese Medicine. Daniel holistically combines acupuncture with TCM dietary therapy, exercise and Shiatsu massage therapy when indicated, in conjunction with lifestyle advice, to help rebalance a patient's body, achieve symptom relief and to enhance optimal wellbeing. He is experienced in treating a wide range of disorders including, but not limited, to:
Acute or Chronic Pain Conditions including arthritis, joint problems, muscle pain, neuropathic pain, post-herpetic neuralgia from shingles, fibromyalgia, bursitis, frozen shoulder and musculoskeletal pain.
Cancer support: Cancer related pain, nausea and vomiting, fatigue, depression and anxiety, neuropathy
Gastrointestinal Disorders including inflammatory bowel disease (Crohn's disease, ulcerative colitis), functional bowel problems such as irritable bowel syndrome, constipation, diarrhoea, bloating, chronic abdominal discomfort, peptic ulcer disease, reflux, nausea and vomiting.
Immune support for acute infections, chronic infections, autoimmune conditions, immune enhancement.
Respiratory disorders including asthma, bronchitis and chronic cough disorders such as COPD.
Energy and Fatigue Issues including chronic fatigue syndrome, chronic tiredness and poor vitality.
Men's Health including hormonal issues, enlarged prostate, poor erectile function and fertility issues.
Mental Health and Stress-related Problems including chronic stress, anxiety, depression and PTSD
Headaches and Migraines
Sleep disorders including insomnia, disrupted sleep patterns
Addiction issues including alcohol, drugs, pharmaceuticals and food addictions.
Women's Health including fertility support, pre/post pregnancy and labour, weight control, menopausal problems, hormonal imbalances, menstrual cycle irregularities, menstrual pain, Premenstrual Syndrome (PMS), Polycystic Ovarian Syndrome (PCOS) and endometriosis.
Cardiovascular Health including high blood pressure, arrhythmias and circulatory problems.
General health and wellbeing enhancement and anti-ageing
Acupuncture treatment consists of a thorough consultation and TCM diagnosis, followed by an individualised treatment plan and then insertion of micro fine needles at specific acupoints to stimulate the flow of "Qi" (energy). In addition to treating specific ailments, regular acupuncture treatments are beneficial for general preventative health and a wonderful treatment to support and enhance your wellbeing, and to help you to age well.
Shiatsu is an ancient Japanese massage form, which is based upon the TCM concept of Qi and utilises hara diagnosis to monitor energy flow throughout the body. A completely clothed form of massage, Shiatsu is a range of specialised techniques that utilises the practitioner's fingers, thumbs and elbows (and sometimes knees and feet) in a combination of massage techniques, applying pressure to specific points to influence and stimulate and rebalance the flow of Qi in the body and to induce deep relaxation. Daniel incorporates Shiatsu treatments into a patient's treatment protocol, if required or requested, which is especially helpful for musculoskeletal problems, chronic/acute pain and stress-related issues.
Daniel's extensive personal and clinical experience, combined with his caring and professional nature, makes him a highly valued member of the Remède practitioner team.